Spring is upon us, and many of us want to freshen up our homes and start new projects as the weather warms up. There are many ways you can go about your spring projects, but if you're having trouble, these 15 ideas can help you get underway.
New Artwork
If you're an artist, or someone who likes to dabble with paint, you can create new artwork for your kitchen or garden. The artwork doesn't have to be perfect, or professional for that matter, but it can personalize a generic kitchen or garden.
Paint Your Pots
This idea is similar to the idea above, but painting your old pots can be a fun way to rejuvenate an otherwise lackluster pot. Painting your terracotta pots multiple colors will give them a new lease on life, and they'll brighten up your garden or home.
Flower Boxes
Planting flowers is a fun thing to do in the spring, and planting flowers into compact boxes is even better. A compact flower box placed on a table livens up the smell of your home, and they can be great eye candy. Just be sure you use treated wood to keep the box from being damaged by moisture.

Accent Your Walls
Priming your walls and then adding painter's tape in a pattern you enjoy is a zany way to add excitement to a room. You can even add multiple colors and different pattern variations if you like.
Flower Cones
Rolling your own bouquet in a personalized cone made out of craft paper is a nice way of giving friends and family flowers. These also make great housewarming gifts.
Teacup Planters
Do you have some old teacups you're not using? If you do, then you can use those old cups, or pots, to plant some flowers or herbs. Like terracotta pots, you paint the teacups however you like, or you can leave them as they are. It's up to you.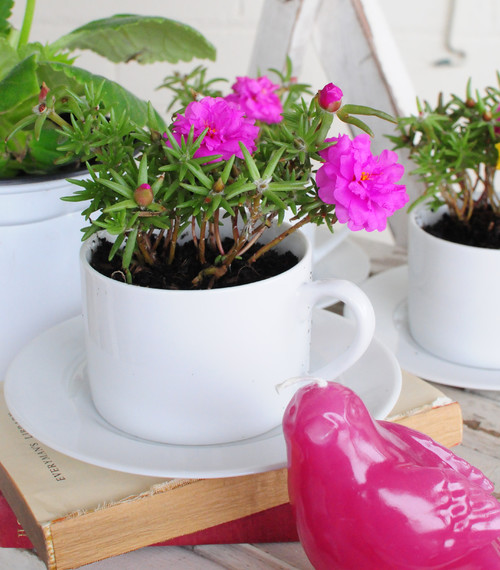 Finding New Uses For Old Cans
When you have a collection of old cans, your first reaction is to throw them away. If that's what you usually do, you might consider transforming them into planters for your herbs. Put a small hole in the bottom of the can, plant your herbs, and then place them in your kitchen. When your herbs are grown, you can walk over and pick whatever you need.
Table Legs
In time, table legs may wear out or break. When this starts to happen, it's a great opportunity to swap the legs out and exercise your creativity with new ones. Just make sure your new legs are practical and sturdy.
New Shelves
Shelves can get old and tiresome, and they'll eventually need some attention. Building new shelves or painting old ones can accent an otherwise dull room.
Clean The Pantry
Pantries, like anything, get cluttered with old or forgotten items that need to be thrown away. Going through your pantry and tossing expired items will keep your pantry organized, and it'll help make cooking easier.
Bright Colors
Repainting your old furniture in bold new colors can be a necessity. This is especially true if you've had the same kitchen or dining room furniture for ages, but you don't want to purchase new items.
Decorate Your Lights
Chandeliers and other light fixtures are great places to hang flowers or other ornaments. Doing this can draw attention and bring excitement to a forgettable light fixture, and it can add to a room's ambiance.
Candlestick Painting
Dipping your candlesticks into various colors of paint can give you a creative outlet to test your design ideas. You can dip, swirl, and drip paint onto the candlesticks for variation and style.
Backyard Lighting
Having ground lights for trees and other shrubbery is great, but adding strings of lights to your backyard will give you and your guests the feel of something exotic. Strings of lights make your backyard feel like a vacation and a party.
Drink Cart
If you have an old drink cart that you're not using, fill it up with classy glasses, fresh flowers, and a pitcher of water to serve to your guests. Make sure that the cart is mobile, otherwise you'll have trouble transporting the glassware to your guests.
If you need help with any of these ideas, Alair Homes is a great company to help with your design needs. They're available in multiple locations, and they provide quick, professional advice. Otherwise, enjoy your new spring projects!
Share: