The goal of any good exterior home improvement project should be to not only increase its aesthetic appeal – from both the "curb" and to the homeowners – but to also increase its functionality. The addition of a professionally-installed, heated driveway fits this bill to a tee. The homeowners will be the envy of their neighborhood as their beautifully maintained driveway will never have to be plowed or manually shoveled.
This fact is as true for those veteran northerners who get snowed in every winter as it is for those folks a little further south who don't see snow as regularly or as severely but still want to avoid the hassle of finding a plow truck or neighborhood kid or – heaven forbid! – picking up a snow shovel themselves. This is especially true for those of limited mobility who still need to get out when the weather turns snowy.
How Do Driveway Heaters Work Exactly?
Essentially identical to the radiant floor systems used in the interiors of many 21st century homes, a heated driveway is comprised of a network of tubes and pipes installed underneath the driveway. Heated water and antifreeze is pumped through this network heating the driveways surface and melting the snow almost as fast as it can land. All it takes is the flip of a switch.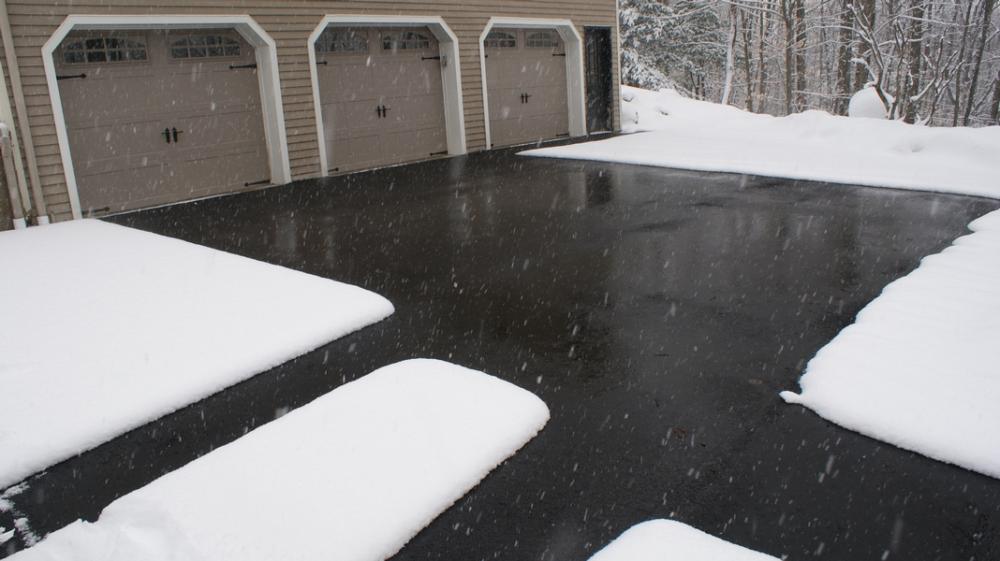 While it is sometimes possible to retrofit this system into an existing driveway, it is far more common to rip up the old one, install the radiant heating system and then install a new driveway. It is a major undertaking and the professionals who do it have a lot of experience and knowledge on their side. One other important note – heated systems placed under existing driveways usually do not come with a warranty while those with with replacement asphalt or concrete typically do.
What Is the Installation Cost?
As usual, you get what you pay for so a replacement driveway can run anywhere from $8,000 on up. In particular, you will be paying $3,000-4,000 to have the old driveway removed and carted away and disposed of. Then the heated driveway system installed by a professional will cost $12-21 per square foot – the total cost for this part of the project is around $4,000 for the average residential driveway. Finally, your replacement driveway will cost you anywhere from $1,000 to $25,000 depending on whether you choose asphalt, concrete, pavers or some other more exotic material.
If money is no object, then forge right ahead but most of us don't enjoy that particular luxury. Still, if the end of snow shoveling sounds like a good idea, here a few tips to get the best price. Get a quote from a local professional. The price of materials vary widely across the country. Second, consider hiring laborers to bust up and cart away the old driveway. It can shave 30-40% off of the total price. Laslty, have a pro install the system. There are just too many details that can go wrong and finding out after the new driveway is installed is downright gut-wrenching.
Wait…There's More!
Radiant heating systems can be installed almost anywhere – under patios, sidewalks and even decking. In fact, you an install one where ever you don't want to shovel that pesky snow. There are even systems that come with an automatic snow detector so that it will activate while you are away and the newest ones allow you to control the whole snow melting process from your smartphone.
Share: