Alair Homes Edmonton
August 17, 2017
Guide to Choosing the Perfect Kitchen Flooring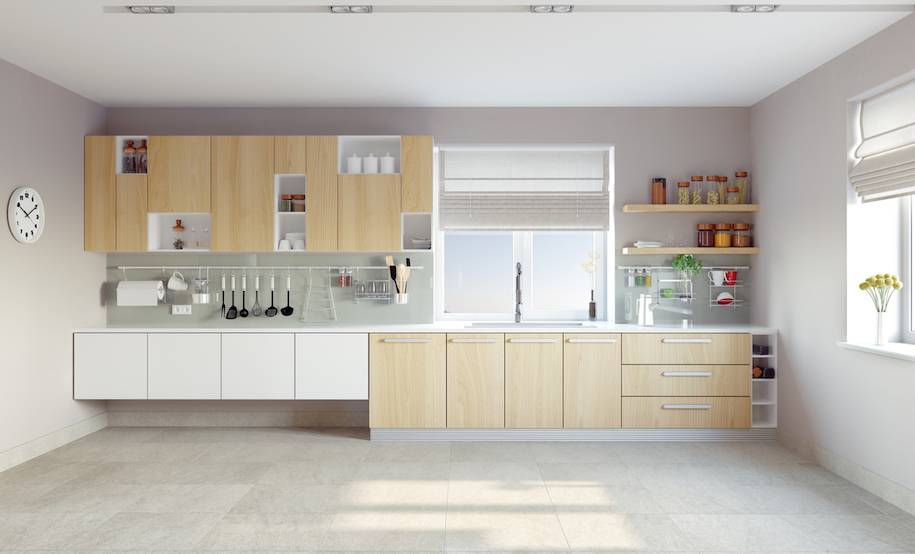 Tags:
The floors in your kitchen get a lot of wear. People and pets are walking on them constantly. Food and utensils get dropped. Broom and mop come out to clean up the mess. This is why choosing the correct flooring material is critical because you want a balance between durability and style. Alair Homes Edmonton offers the following guide to help you choose the right flooring for the kitchen in your home.
Ceramic Tile
Ceramic tile offers any number of styles, textures, and colors to give your flooring a unique look. Very durable and easy to clean, ceramic tile can be cold underfoot and unforgiving to dropped plates and glasses.
Natural Stone
Natural stone offers infinite variation in color and pattern. It offers an upscale look, not available with ceramic tile. It's cool surface is great in the summers and it requires little maintenance. Stone is one of the more expensive options and requires periodic sealing for long-term beauty.
Wood
Solid wood has never lost its appeal as a flooring choice for the kitchen. From thin maple to wide pine, you can find a wood that compliments your kitchen design. It never goes out of style and can be refinished as needed. You do need to clean up spills and avoid dropping things to keep the look.
Vinyl
Vinyl is one of the most inexpensive flooring options, while offering tons of colors, textures, and patterns. Modern vinyl can even mimic the look of wood, stone and ceramic tile. Very easy to keep clean and comfortable underfoot, vinyl does begin to show wear in just a few years.
Linoleum
Linoleum is the all-natural alternative to vinyl. It comes in an infinite amount of colors and can be cut into intricate patterns. Very affordable and durable, linoleum does wear and will fade over time. Most come with a protective coating. Without that coating, it requires waxing and polishing periodically.
Cork
Cork has surged in popularity in recent years due to its eco-friendliness. This material is resilient and flexible, making it very comfortable to walk on and less likely to break a dropped plate. It is warm and actually absorbs sounds. Containing suberin, cork is naturally resistant to mold, mildew, rot, and pests. It does require regular sweeping and vacuuming to prevent surface scarring.
Concrete
Concrete is the perfect choice in warm weather regions. It is cool to the touch and can be finished with staining, stamping, scoring or acid-etching. Plus, if you ever get tired of it, you can cover it with tile, carpet or cork. Concrete is very hard so dropped items will break.
Laminate
Laminate imitates the look of wood or stone, without the cost. Scuff and scratch resistant, laminate is great for homes with kids and pets. It is very low maintenance, requiring only a sweep and a mop. The downside is that once laminate begins to look its age, you will have to replace it completely.
Bamboo
Bamboo is more affordable than hardwood floors and works well in busy spaces like the kitchen. It is actually a fast-growing grass, making its harvest sustainable and very eco-friendly. The range of colors is smaller than wood and it is not a good choice for high-humidity climates.
Whichever option you choose, you will need a contractor like Alair Homes Edmonton to install them for you. Alair Homes Edmonton is here to help you with any kitchen renovation needs that you may have.