Is renovating your kitchen on your 2021 to-do list? Kitchen remodels are among the most popular home renovations projects, with good reason. The kitchen is one of the most used and well-loved rooms in the house. And renovating your kitchen can increase the value of your home by as much as 12.5%.
If you're looking for some inspiration, we've reached out to the design experts to find the top seven kitchen design trends in 2021.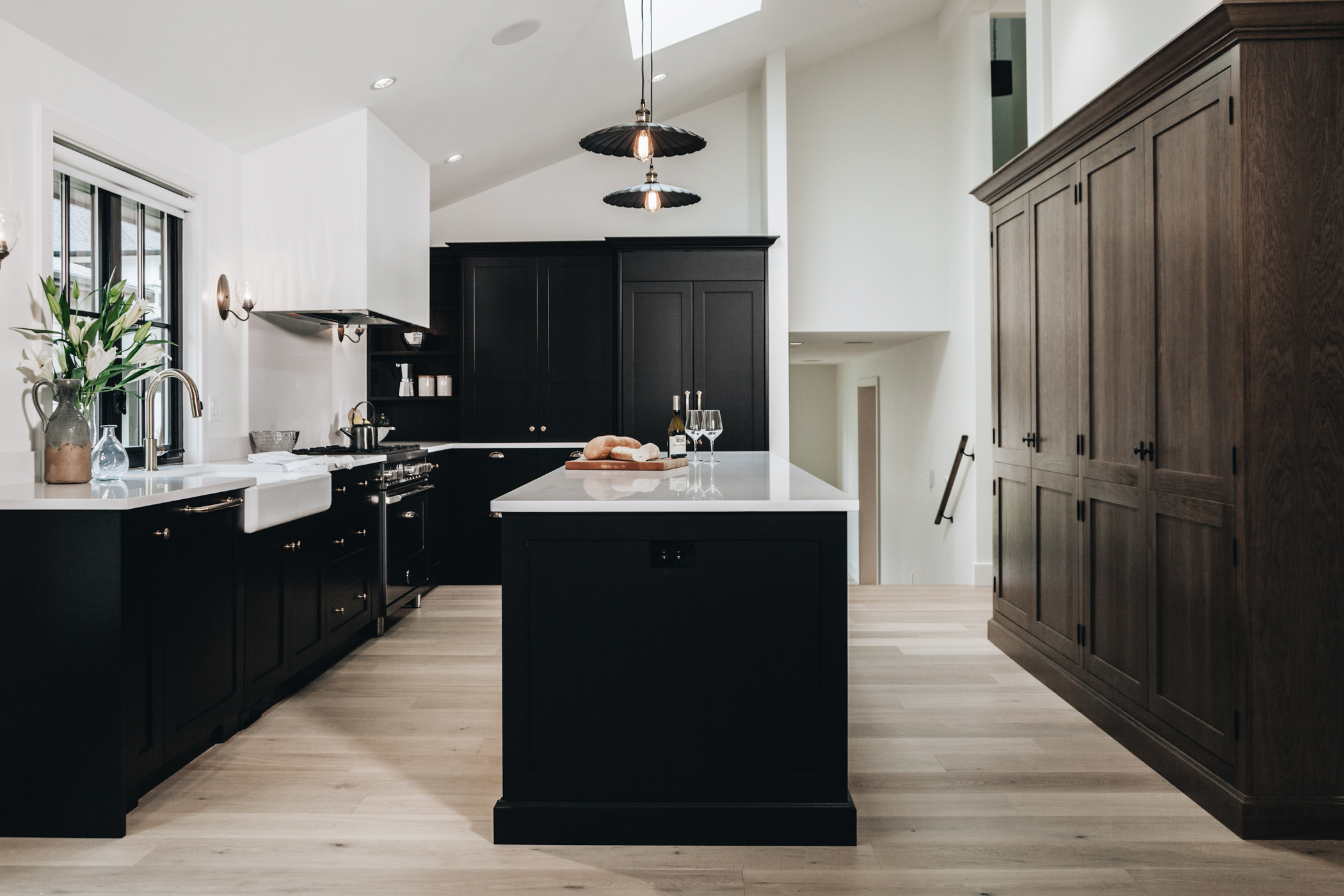 Photo: Kitchen Art Design
Dark & Moody
White kitchens may never disappear, there is a movement towards darker, more dramatic designs. 
"Blues have been in for the last year or so now we're also seeing more dark greens – think emerald, jade and pine. Those dark, rich, luxurious shades are becoming more popular," says Sabrina Moncion from Kitchen Art Design, a custom kitchen cabinet company in Vancouver.  
Black is also becoming more popular, not just for appliances but for cabinetry, hardware, walls, and accents.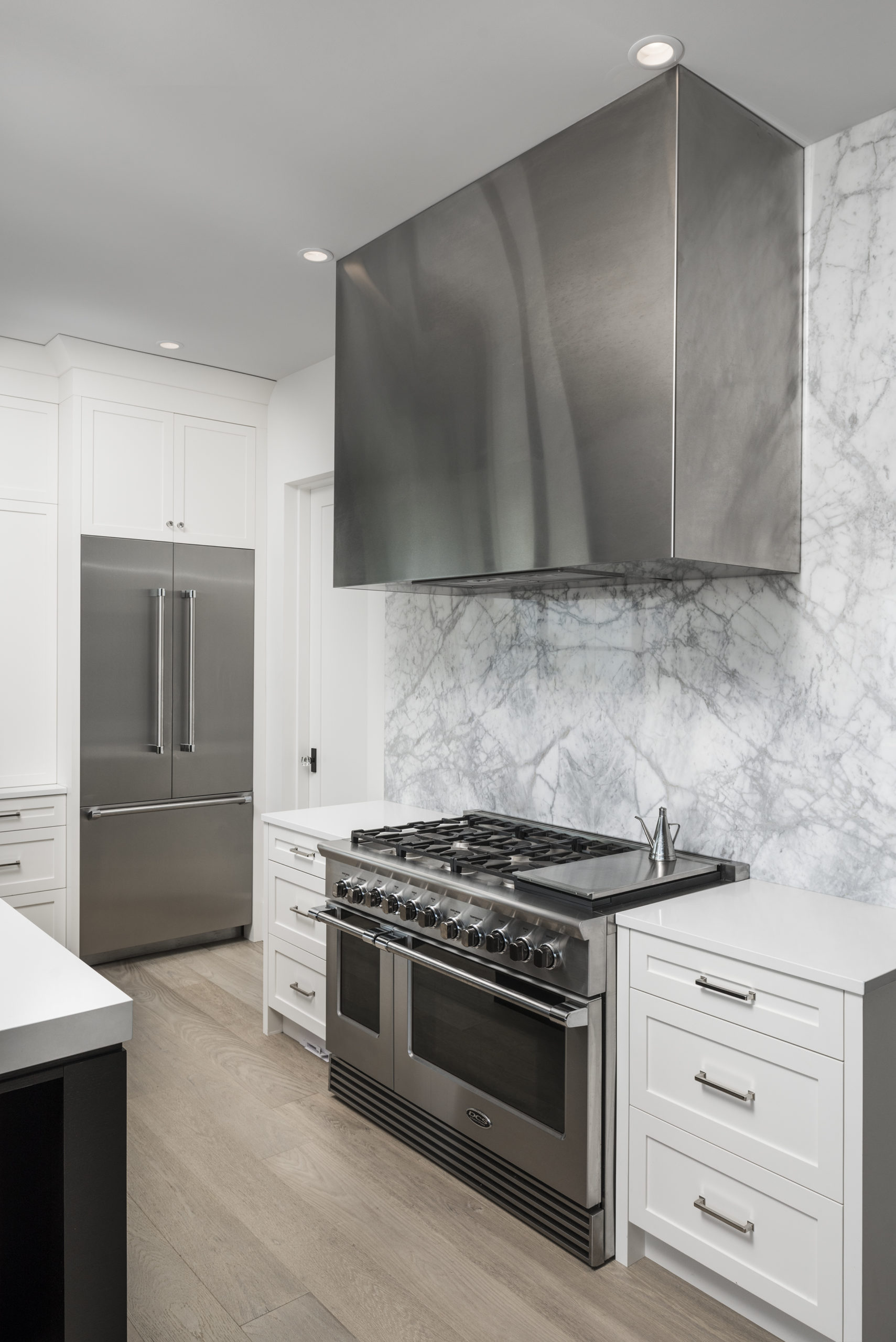 Make a Splash
When it comes to backsplashes, the trend is moving away from traditional white subway tiles and towards bolder geometric patterns and shapes. Spanish or Moroccan tile motifs are also still popular. 
"I've also seen a lot of full-height marble used for the backsplash, a large piece that goes right to the ceiling.  It looks beautiful paired with light, muted colours like pewter, greys, warm taupes and pale, white-washed woods. It's a very West Coast look," says Moncion.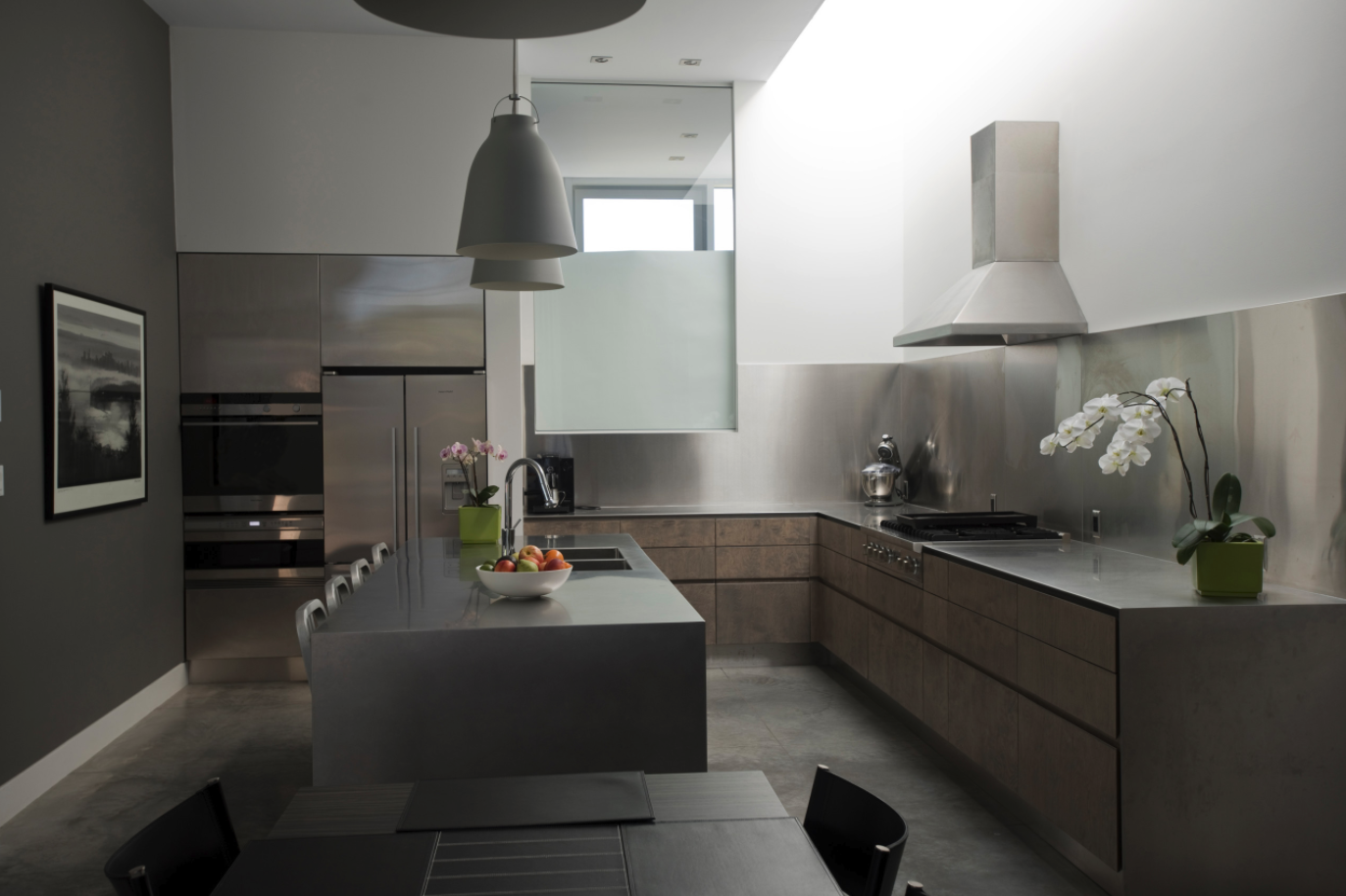 Photo: Kitchen Art Design
Go Low 
While big islands are still a major focal point of the kitchen (often the bigger the better) a lot of attention is being paid to the base or lower cabinets.  
Upper kitchen cabinets are being traded out for open-shelving and floating shelves. People are also putting in more windows to brighten up the space. 
When it comes to cabinetry, the design trend is moving towards minimalism. "We're also seeing less of a heavy profile on doors, and cabinetry, in general, is going more minimalistic," says Moncion. In terms of cabinet construction, ashy and muted, washed-out wood tones are becoming quite popular, as well as walnuts and rift-cut white oaks.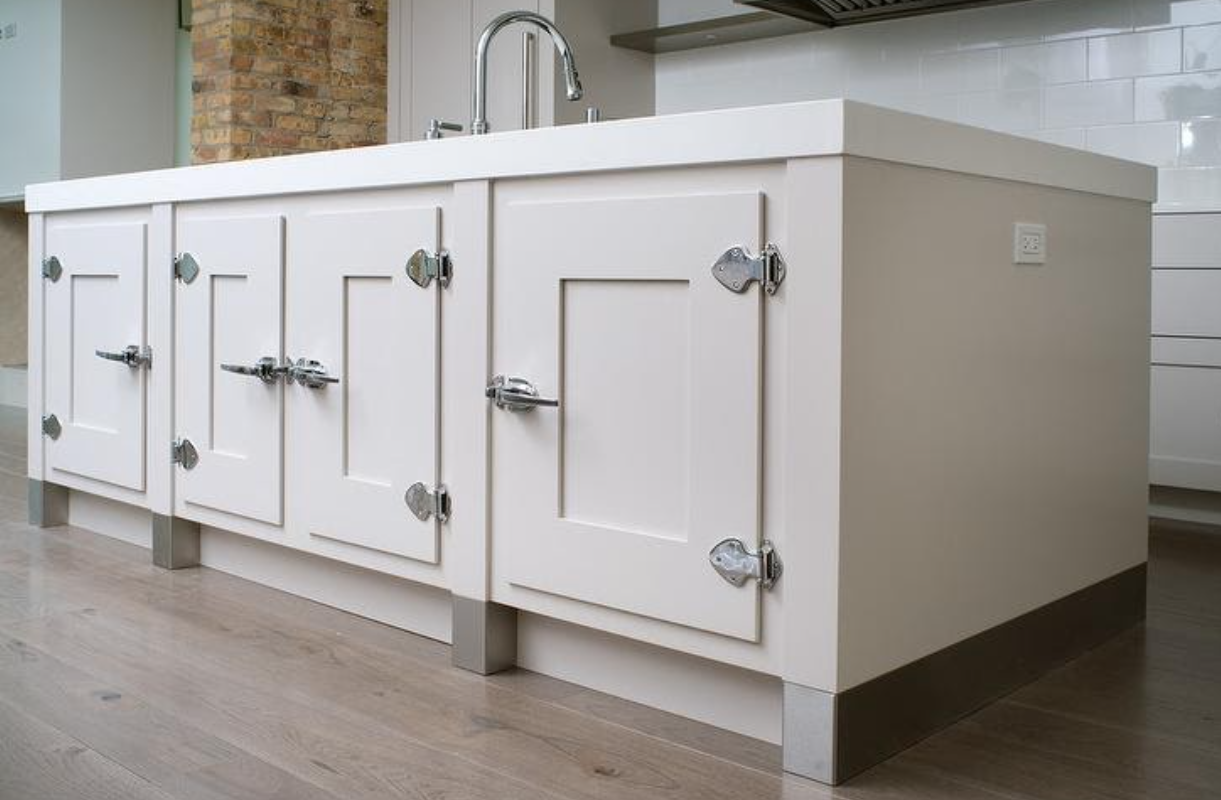 Feel the Pull 
In the spirit of everything old is new again, hardware styles are getting a retro look. While knobs and drawer pulls will never go out of style, Moncion says she's seeing the reintroduction of latches. "Something that's almost a bit of an antique style or a vintage look. And there's also a lot of mixing and matching when it comes to hardware." 
In terms of finishes, gold, brushed gold, brass, and matte black hardware and fixtures are among the most popular. 
And at the opposite end of the spectrum, we're also seeing the reintroduction of handleless drawers and appliances which complement the minimalist aesthetic.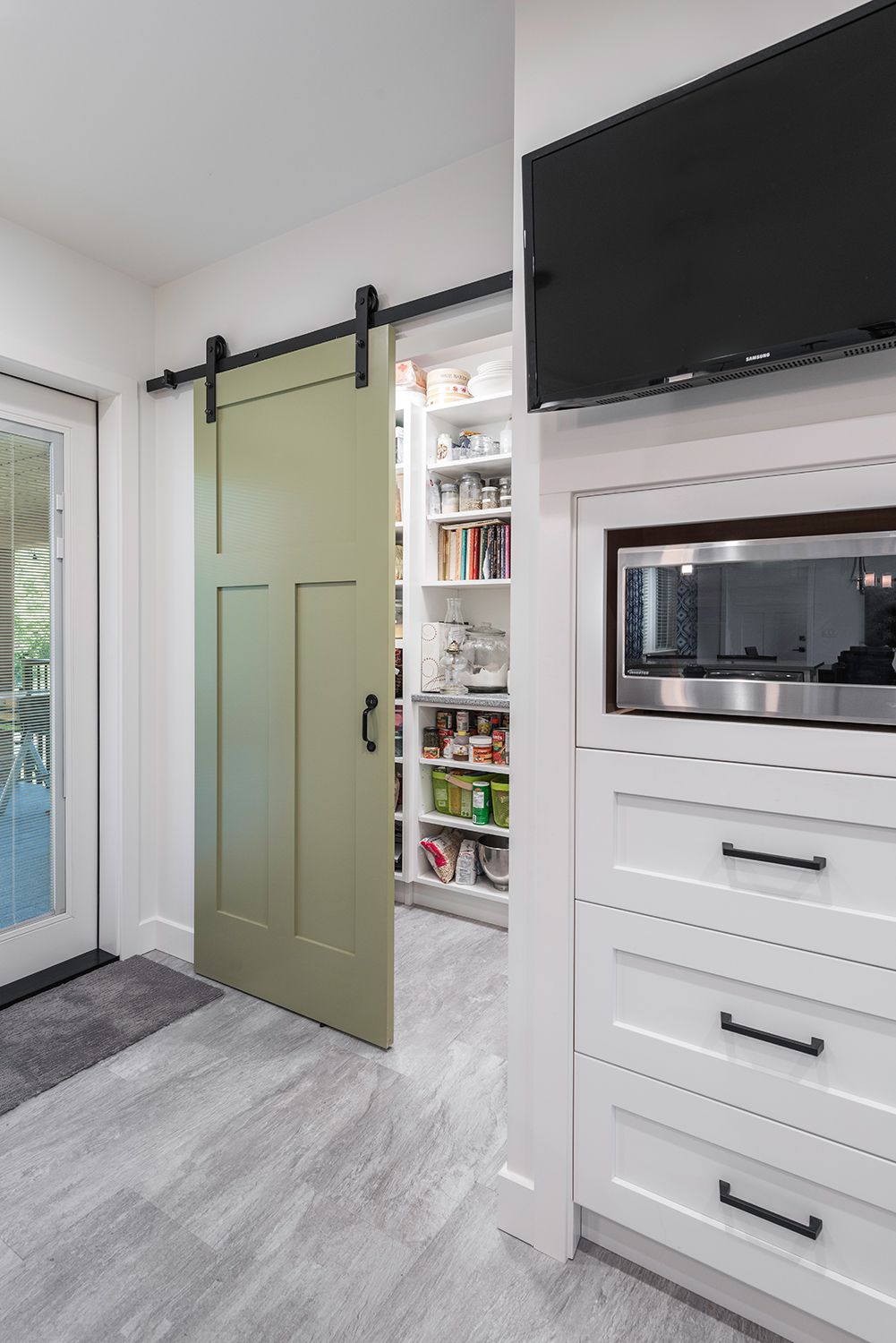 Organize & Declutter
Whether it's Marie Kondo's continued influence or the COVID-inspired need to stock the cupboards, pantries are seeing a resurgence, especially well-organized ones. These storage areas are getting the designer touch, complete with custom shelving, canisters and jars, and dedicated spaces for all your items. 
Homeowners are transferring packaged foods and staples into clearly labelled jars and pantries are being outfitted with receptacles for all types of recycling. "Overall, there is a movement towards more organization and people are trying to go more green, keeping mindful of any waste," says Moncion.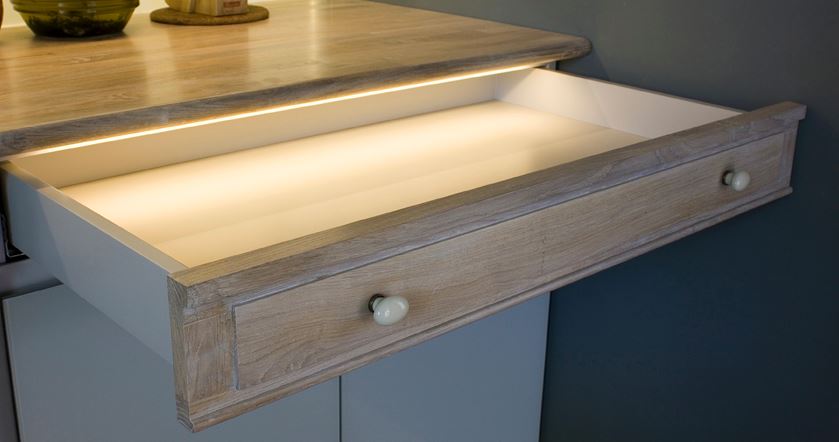 Photo: Klus Design
Let There Be Light 
Ample kitchen lighting has always been important but a new trend that's becoming increasingly popular is lighting in cabinets, drawers, and pantries. 
"Integrated LED lighting is something we're seeing everywhere. So when you open the drawer, it automatically kicks on the light, same with the pantry. They have strip lights that go all the way down the side of your drawer so that when you open it up you can easily see what's there."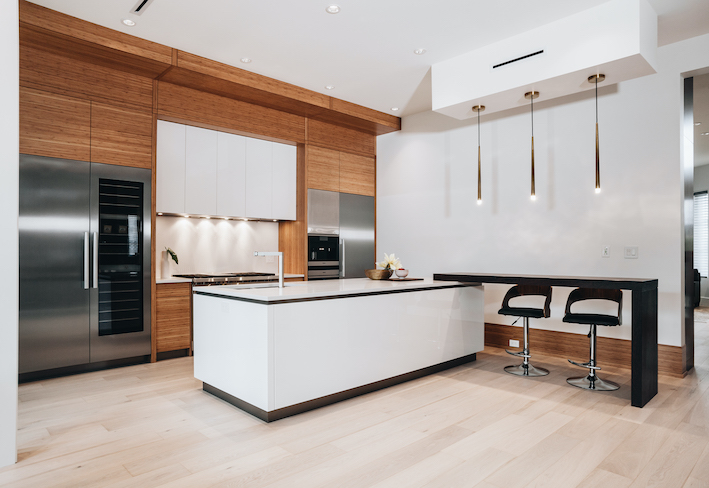 Photo: Kitchen Art Design
Get Smart 
In addition to integrated lighting, the kitchen is becoming increasingly high-tech. Lights and appliances are being connected to smart homes services like Alexa and Google Home. Smart fixtures with touch features are growing in popularity, as are smart appliances. Ovens are becoming increasingly sophisticated, with the ability to heat up instantly and even measure the temperature of the food being cooked. 
Looking to start a kitchen renovation? Did any of these kitchen design trends in 2021 catch your eyes? Be sure to allow plenty of time for the planning process early. Proper planning means a more time and cost-efficient renovation. One thing to keep in mind is that COVID-19 has impacted supply lines and stock can be low. Another good reason to start your renovation right away.