If you've started to think about what you'd most value in a brand-new custom home, you're likely to have thought what's on the top of your custom home wish list. As we're speaking with our clients, our team continues to see increases in the number of families who are putting "energy-efficient upgrades" at the top of their list.
If that's one of your family's priorities, you've made a smart decision. Building a home energy efficient enough to be labeled "net-zero" will do wonders for your family's savings and help to reduce your carbon footprint. Even if that's not a motivator for you, consider that building net-zero is likely to be the building standard across Canada within ten years.
What's a net-zero home?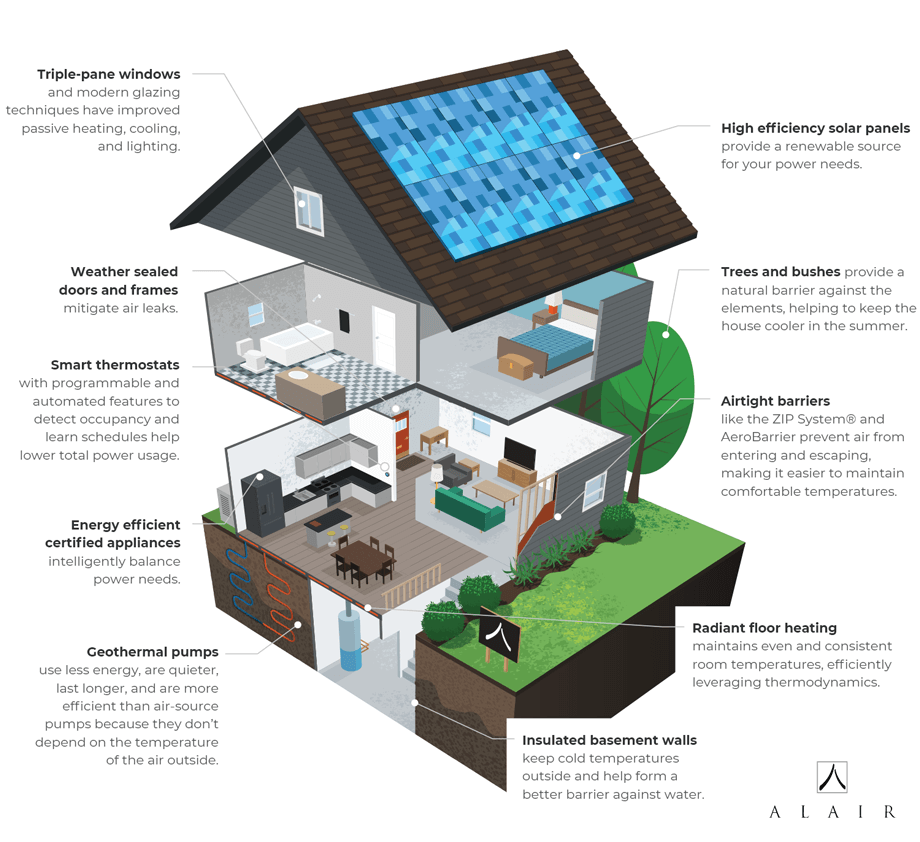 A net-zero home is a home that produces an amount of energy equal to or greater than that which the home uses. Net-zero homes are made possible through innovations in energy-efficient construction like high-efficiency solar panels, products that enable airtight barriers, and radiant floor heating.
Net-zero homes are valuable long-term investments due to the dramatically lower electricity and gas costs they incur and because of their increased resale value. Due to the larger, global value these homes have on our environment, they have become increasingly more popular in recent years. We regard building with the net-impact of a home in mind as part of our responsibility as global citizens.
Forward-thinking families often decide to build net-zero for one more reason beyond those: building to a net-zero standard is likely to become mandatory for new Canadian structures within ten years. The Pan-Canadian Framework for Clean Growth and Energy Efficiency laid out the government's plan for federal, provincial, and territorial governments to create ever-stricter model building codes starting in 2020. The long-term goal of regional governments is to enforce net-zero standard model building codes by 2030. Net-zero seems likely to move beyond a wish list item status to a "must-have" feature in all new construction homes  in the very near future.
Here's how you can build a net-zero home.
If this seems intimidating to you, it's time to set your worries aside. Think of it this way: building a custom home is inherently a long-term investment. Building to net-zero standards  is one of the ways you can get the best return on your investment. Alair Homes Delta is here to help you navigate recent innovations in energy-efficient construction and make it easier for you to decide which green features are the best investments for  your custom home.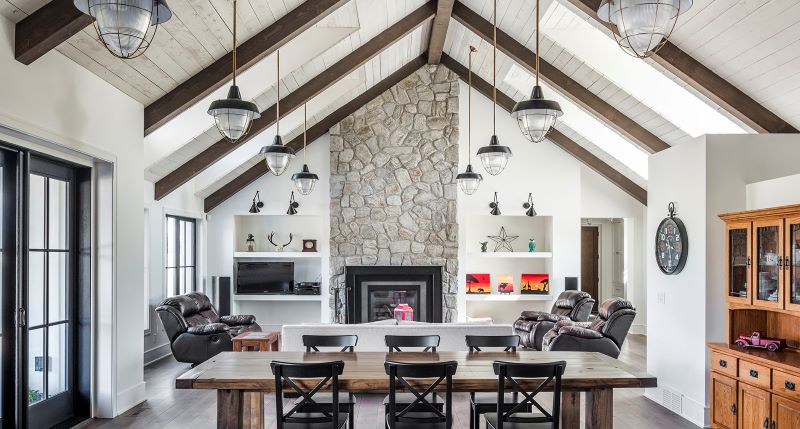 High-Efficiency Solar Panels
Solar panels convert sunlight into electricity that is ready for your family to use from the time you hit snooze on your alarm clocks in the morning until the moment you turn off the lights at night. Solar panels are judged by their efficiency rating, which evaluates a given panel's ability to convert sunlight into electricity. Depending on the panel's size and rating, it may store several hours (even days) worth of energy. Your builder will help you determine which panel is best for you.
Across Canada, the average cost of installing a 7.5kWh system is roughly $23,000. Delta region families are particularly fortunate, however, to live in British Columbia when it comes to solar panel installations. This region boasts the second lowest installation cost of solar power in the country. At such a low cost to install, the impact of this feature far exceeds its cost.
Besides replacing expensive electricity with power energized by the rays of the sun, there are a few other benefits to installing high-efficiency solar panels. First, British Columbia offers a PST exemption for solar panel installations. You might also be interested in BC Hydro's Net Metering option. BC Hydro's Net Metering option allows families to sell energy created by their solar panels in excess of what they use in exchange for future BC Hydro credit. If you live in Sunny Tsawwassen like I do, your solar panels can save you even more when you  jump at this opportunity.
Airtight Barriers
Air barrier systems stop uncontrolled air leakage, which unhampered creates unwanted moisture in walls, releases air heated at your expense into the outdoors.
Creating an airtight structure depends upon eliminating unwanted holes and gaps hiding in your home. Airtight homes stay toasty in the coldest months and most efficiently use air conditioning, as they aren't subject to the leakage of conditioned air. Their residents escape the pains of mold allergies, provoked by dampness hiding in the walls. If a building has been constructed with proper ventilation, there's no limit to how airtight you want it to be.
Completely airtight structures have finally been made possible with the help of new building materials that seal gaps in construction more fully than ever before. One system of sealing homes that uses such a material is the AeroBarrier process. Here's how it works: expert installers use a blower door to force your entire home to undergo extreme air pressure. As your home is placed under pressure, a patented synthetic acrylic spray is blown around your home, filling every crack over 1/2" wide in a matter of hours. The result is a virtually 100% airtight home.
Building a custom home is a long-term investment and this is one of the best ways to maximize your return on investment. One study actually showed a 25.7% reduction in annual energy usage thanks to such considerations.
Radiant Floor Heating
Radiant floor heating involves installing electric heating coils or water-heated tubing under your home's floors. Unlike a traditional HVAC system, heat radiates from the ground up and warms the rooms in your home with a consistently comfortable temperature.
That consistent comfort comes from the fact that radiant floor heating works with the laws of thermodynamics to create a cozy home for you and your family. Heat naturally rises. Installing a radiant floor heating system means you can save energy by working with the laws of nature to heat your home instead of fighting them and forcing air into unnatural patterns.
Radiant floor heating can be a huge boon to your bottom line. This feature is known to slash heating costs by as much as 50%. One of the benefits of this thermodynamically supported heat output is that you end the need for air to be blown around your home, stirring up dirt and causing allergic reactions. If you ever decide to sell your home, you'll be glad you thought to include that luxury as radiant floor heating systems can dramatically increase a home's resale value while also reducing your time on the market.
The cost of installing a radiant heating system depends on several factors. Installing radiant heating systems in new homes tends to be more cost-efficient than attempting to retrofit an older home with this technology. Additionally, if you choose a hydronic (water-heated) system, you need to factor in whether you can use your existing hot water heater or if you'll need to install a full boiler system to support your new heated floors. The cost of installing radiant floor heating can be as low as $5.86 per square foot, but there's a good chance it could be more.
When you factor in the lack of vents – fewer gaps for your heated air to escape through! – and the added resale value to your home thanks to the luxurious reputation of heated floors, you'll quickly come to appreciate your radiant heating system not just for its immediate benefits, but for its long-term financial benefits too.
Alair's Here to Help You
Today's families are fortunate to have many options when prioritizing the features in their custom homes. I know the wide variety of choices you're faced with can be overwhelming, especially in the context of net-zero construction becoming mandatory in 2030. I'd like to offer you our help in navigating all of this.
Alair Homes: How To Understand Contractor's Fees from Alair Homes on Vimeo.
Our Delta team values building strong relationships based on trust and transparency. We keep the lines of communication with our partner families open at all times. This helps us to always be there for you. That point-of-view is also why we use the Client Control model, which gives our partner families the ability to sign off on every single supplier and product. By placing you in the driver's seat, our team guarantees that you're always in control of what's going on during the construction of your home.
Call us today
I hope I've managed to convince you that net-zero homes aren't out of reach. If you'd like to learn about additional ways you and your family can head towards a net-zero standard, please give us a call today. We'd be happy to walk you through all of the ways your next home can be as energy-efficient as possible.