What's In and What's Out in Countertops
Granite is a material that more and more designers are stepping away from. Instead, they are sourcing more marble for their home renovations.  However, there is another surface that seems to be all the talk this year. Quartz offers a beautiful look and many other distinct advantages.
Quartz is not a new material. It's been around for many years, but recent technological changes have significantly increased its "wow" factor.  In fact, the new slabs are anything but old speckled, pebbly engineered stone that was common in the past.  The new look is sophisticated, simplified and stunning. A large slab of Quartz with one long vein running throughout can create a stunning visual in your kitchen; it is reminiscent of marble but requires much less maintenance. But getting back to our original topic, is granite really on its way "out"? Let's hear what local countertop expert, Caitlin Cormier at Elegant Solutions, Barrie has to say.
Caitlin took some time to enlighten me about quartz and granite; how the materials differ and the pros and cons to both. Her information helps to answer the pressing question: Is it really over, Granite?
Granite – Is it Out?
For some people, the answer may be yes. For others, granite most certainly is not out. "The big question is the look a client wants and how they use their kitchen."
What is Granite?
"Granite is formed beneath the Earth's surface, comprised of quartz, mica and feldspar, and it can contain amphiboles and other minerals.  Blocks are mined and cut into slabs."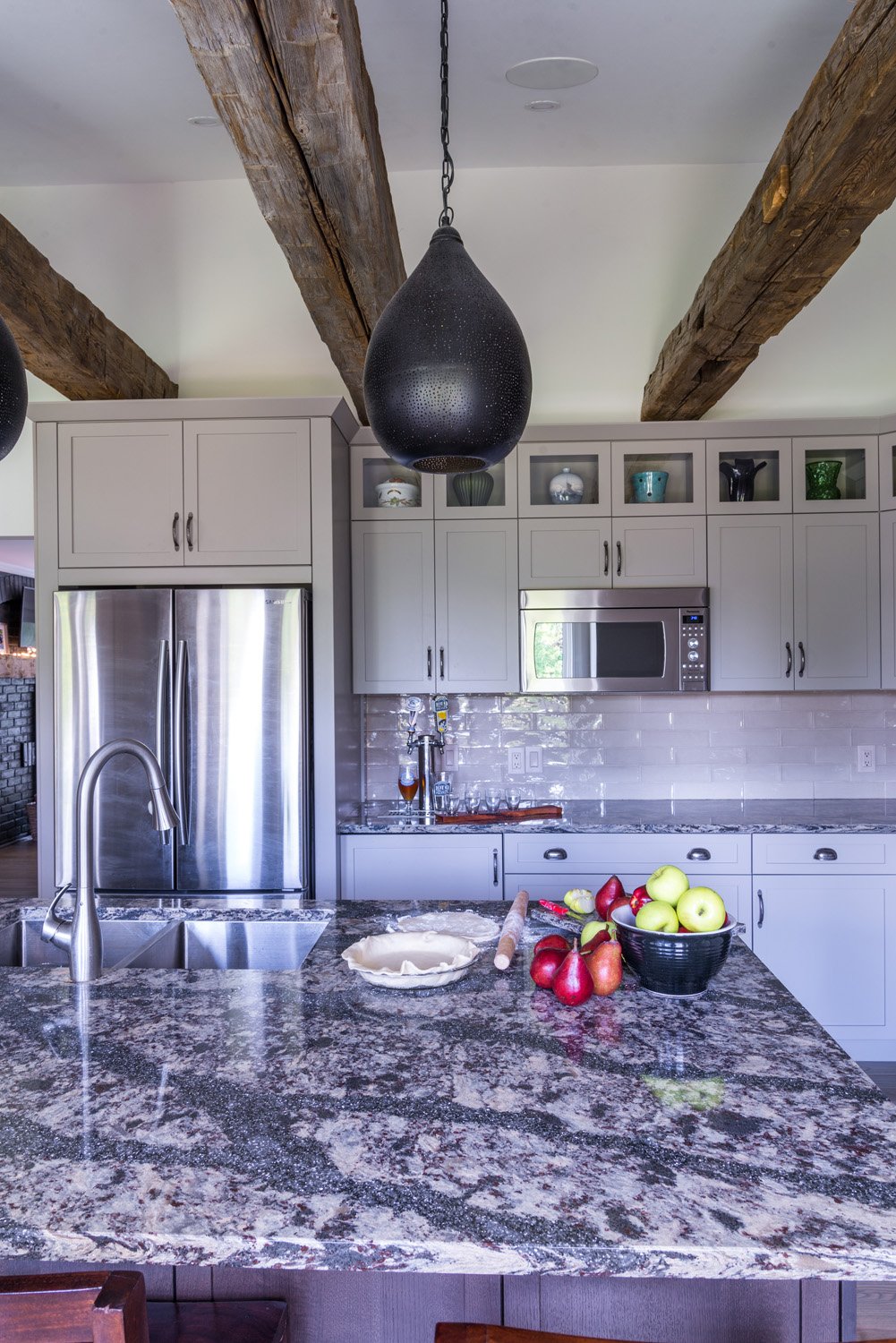 Modern pattern or grain of granite?
"Most homeowners fall in love with the design of a slab, whether it be granite or quartz.  They then dig deeper into their selection based on maintenance, stone characteristics and pricing."
Which Granite Brands are Tried and True?
"Granite will come from a stone importer, then to a supplier and finally to a fabricator where the home owner will purchase from.  It can come from anywhere, be sure to investigate its origin and select a slab right from the fabricator or supplier because each slab varies.  What you see is never what you receive."
The Pros and Cons Granite Offers
Pro:  "Nature created with natural veining and movement."
Con: "Requires annual maintenance – such as sealing and polishing, it stains, and is not registered as food safe."
Pros and Cons of Quartz?
Pro: "Natural quartz mineral falls under diamond for hardness.  It is maintenance free and never requires polishing or sealing. It has a lifetime warranty and the client is dealing directly with the manufacturer, fabricator and installer when selecting Cambria Quartz."
"Another big pro, is the fact that what you see in sample format is what you receive at the time of install and there are no wait times for slab availability."
"If choosing other brands, research their quartz content.  Cambria uses Canadian Quartz and has the potential to be a seamless product."
Con: "Quartz can be more expensive."
What is Quartz? Does it Contain Plastic?
"No.  Quartz is a natural mineral found in the earth.  It's mined and manufactured into countertops.  Quartz slab is 93% quartz, with 7% pigment and resin as a bonding molecule."
Which Countertop Trends are Currently Worth Following?
"We are seeing large, one piece islands – 10 ft plus – and lots of full height backsplashes with veining movement."
Is There One Most Heavy Duty, Low Maintenance Countertop?
"Quartz wins the race here.  It's the most durable, food safe product on the market.  Quartz falls under a diamond for hardness and is 100% non-porous.  Although granite is still preferred over marble and Corian, you still have annual maintenance and worry with staining and bacteria."
Is There an Ideal Countertop Thickness?
"Granite and Quartz slabs are both only available in 1cm, 2cm or 3cm thickness.  A recommendation for thickness is 3cm, it's that thick through the entire top.  With 4cm or 6cm, the profile is laminate, and a faint line is visible."
Love the Look of Slab for a Backsplash That Matches the Countertop. Is it More Expensive than Ceramic Tile?
"Yes, it's more expensive (depending on your tile choice) but think no grout lines or nasty stains and grease splatter!  Depending on your quartz selection, it can become a focal point too."
Any Other Backsplash Trends You're Seeing?
"Lots of geometric shapes and old world designs and colours.  We used to believe that simple is best, but homeowners are braver than ever and renovating for their personal taste rather than the worry about selling!"
Well, there's the information you're looking for, straight from a pro!  Granite remains a great option for price, aesthetic appeal, and durability – but that proper yearly maintenance is a necessity if granite is your choice.  Quartz is the perfect sustainable option for clients who want to complete their home's design aesthetic with the look of marble, veining or solid surface with less maintainenace.  Marble is timeless. It's a great option for clients who love a sleek, clean, gorgeous, natural stone.
If this is the year you plan on renovating your kitchen, good fortunes are with you!  The countertop options available today are better than ever, and no matter your budget, you'll find something gorgeous and perfectly suited to your taste.
Happy upgrading, and remember, Alair Homes is here to help!
Share: