So since I'm in the market to replace my kitchen sink and faucet, I thought it would be great to blog about my thoughts on selection.
Trending now is 'silgranit' which has been gaining popularity in recent years, and it seems to be also popular when helping our clients make their kitchen selections. Silgranit is a rock solid composite, made in Canada and engineered in Germany – and Toronto is one of only two silgranit production facilities in the world.
Why Use Silgranit for Your Kitchen Sink?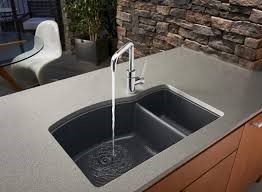 Silgranit is a patented material that combines 80 per cent natural granite stone with a premium, acrylic-resin formula to give the sink unsurpassed hardness, strength and durability. That sells me right there! These sinks are non-porous for exceptional hygiene and easy care. They are also scratch, chip, and stain resistant, and they are strong enough to withstand the heat of saucepans straight from the stove and tough enough for you to cut food right on the surface. Again great selling features, but I would never put hot pans on or cut on it.
If you are looking for a beautiful kitchen feature that will never lose its brand new look and appeal, these sinks will give you a lifetime of pride. The colors are cinder, anthracite, truffle, café, biscotti and white. Each one is a non-fading, densely textured earth shade. Cinder, for example, is a velvety warm charcoal with a hint of brown. Anthracite (my favorite) is a beautiful black sink, dramatic but also serene. All of the colors are imbued with a mineral pearlescence to catch the light and each one is designed to complement the other décor features in your kitchen. Blanco carries some great designs, which should accommodate your client's desires for that dramatic look. Colored faucets are striking when paired with the color of your sink.
Share: