As we all look forward to updating our homes, renovating, adding on and making changes, we need to remember our home's curb appeal as well. Now that the nice weather has finally arrived and it's time to garden, landscape and freshen the paint, we need to consider the best look for our space.
Most people consider the front door as the main entry to their home. Let's think outside of that theory and consider your home's curb appeal. From the moment you enter a driveway, you have entered that home.
Get Colorful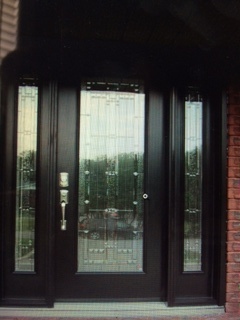 So it's time to freshen paint for exterior, something to keep in mind would be color. Keep lines simple by having your trim all the same color. If you home is brick, paint the garage doors to blend in with that so it will recede the look. Think of the color of your front door, perhaps it needs a lift and the best way to do that is put your splash of color here. If the hardware needs changed, keep it matching with light fixtures, mail box, etc. at your entry. Also don't forget your house number, don't have it too small and think of the light surrounding it. Think of softening the lines around your home.
Renovate With Utility in Mind
Since we are outdoors you should also think about your space. Is your decking serving the purpose you want? Do you need to make an outside room? Where do you spend most of your time in the summer months? Is there enough shade or open areas?
If it's an outdoor space for entertaining and enjoying, there are many things to consider, so always make a list and have a plan. Just a few point that I consider to be important in the planning would be; design, size, lighting, ambiance, and cost.
Stay tuned for some more insight, planning and pictures on our next blog.
Cheers to the outdoors!
Laurie & Kevin Blair Alair Homes Collingwood.
Share: