11 Designer Secrets to Improve Your Kitchen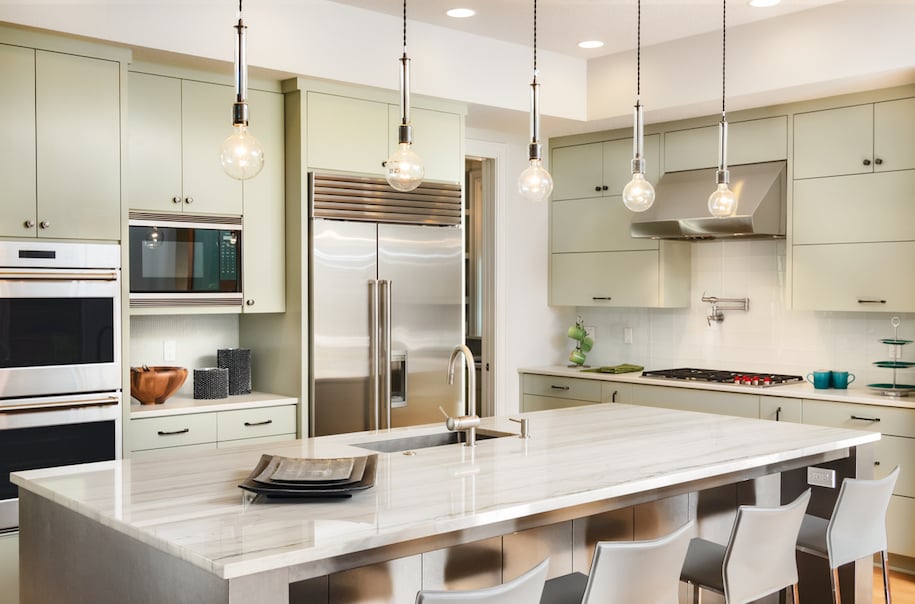 Tags:
There are ways to utilize kitchen space that otherwise goes wasted and designers are now revealing their secrets. With some planning, and maybe a little expert help, you can have a functional, beautiful space you love.
It is unfortunate that traditional cabinet design allows for a lot of wasted space. They are deep and you have to unstack or reach in the back to get a pot. Upper cabinets typically aren't much better and you have to stack cans or cups. And, what do you do about the dreaded corner cabinet?
Designers have perfect solutions for these problems. Many of these solutions can be used whether you own a Chilliwack home or renting. You can also discuss them with a contractor like Alair Homes Chilliwack at the onset of your project to see how feasible they are to implement.
Create More Cabinet Space
1. For bottom cabinets, there are pull out drawers you can install in two or three tiers. With these drawers, you can organize your pots and pans and only pull out the drawer you need without unstacking your entire cabinet to get to them.
2. Adjustable shelves can be added to upper cabinets to create more space for canned and dry goods. These can also be used for things like mugs, cups, and small bowls. You can also use them to provide space for mixing bowls and colanders, so you will no longer have to remove a whole stack to get to one.
Utilize the Corner Cabinet
3. Install a lazy Susan in the corner cabinet. This is the perfect place for everyday items and being able to turn it will provide easily accessible space.
Create Space for Smaller Items
4. Install vertical shelving for baking trays. This will keep your trays neat and easy to access.
5. Double your drawer space by installing a tiered cutlery organizer. With two tiers and a sliding top tier, you now have space for everything.
Create a Rollout Cabinet
6. Covert some cabinets to completely slide out on rollers. This is a new trend that is popular for a reason. These slender cabinets can have five or six open shelves where you can store everything you need to cook. A small one beside the range can hold all your immediate items like oil and cooking spray.
Use Inside Cabinet Doors
7. Install utility holders on the inside of your cabinet doors. These are inexpensive and can hold things like plastic wrap, recyclable plastic bags, trash bags, and larger cooking utensils.
Hide Items
8. Putting your trash in a roll out cabinet. This keeps it out of sight and yet easy to get to when you need it.
9. Installing a cabinet finish on and around your refrigerator. This way, your refrigerator doesn't stand out and looks like a part of the room.
Other Ideas
10. Installing a second smaller sink in another part of the kitchen. This can be practical if two or more are using the kitchen.
11. Install flush countertops. This creates a streamlined look that is much easier to clean.
A few organizational changes can create a Chilliwack home space that's enjoyable to cook in and a breeze to clean. Contact Alair Homes Chilliwack if you are interested in learning more about building a custom kitchen or renovating your current space.