Big Beginnings
Some people may say a move from the big city to Camrose is downsizing, but for my wife and me, we upsized our quality of life by moving to Camrose almost three years ago. The community of Camrose welcomed us whole-heartedly when we arrived, and from day one we looked for ways to give back to the city and the people.
We met the team at Camrose Open Door a couple years ago, and we started supporting them by sponsoring their annual golf fundraising event. It was easy for us to simply sponsor, but then we learned more about the work they do in our community — especially for the youth in our community — and we wanted to do more for them.
We got our opportunity when they invited us to be part of the recent major renovation of their youth shelter.
Through some of the work that we've done with other non profit organizations in Camrose such as the Camrose Women's Shelter, we understand how difficult it is for these groups to make such large changes on such small budgets. We immediately looked for ways we could offset some of the renovation costs, but first we needed to figure out the goal of the renovation and the work needing to be done.
Caring for Camrose Youth
We learned that the youth shelter doubled their beds, and as such increased their capacity significantly. There was a small kitchen and eating area that had only enough room for a small dining room table. Down the hallway was a living room with a bathroom that separated the kitchen and living room area. It didn't take a pro contractor to notice the space was limiting and had no flow.
Our initial planning sessions with the Executive Director uncovered the need to open these cramped spaces to create a larger, open concept space. Similar to many family homes these days, the kitchen, dining and family room area is open to each other. This open space enables a family to gather, entertain and enjoy – together.
Creating a Shared Space
With the youth shelter, the vision was to create the heart of this temporary home for the youth staying there. A kitchen space where they could prepare and share meals together, and enjoy gathering together for Sunday-style family dinners. For the Camrose Open Door, this was really important to give youth a safe space where they could spend time together.
To really open up the space, our team had some fun smashing down those walls!
This point in any renovation is hands down my favourite. I love seeing the vision start to come to life especially once you remove some of those walls to see what it's going to look like. Getting those walls out of there was no problem at all, but the interesting part always comes in when you have to deal with some of the mechanical runs in the wall whether it's plumbing or HVAC. And of course there's always electrical lines that you have to deal with.
Without all the interior walls, we got to see right away how our open concept design for the space was going to look. Being able to stand at the beginning of the old hallway and look across to where the living room is, you really got to see how big the space really was.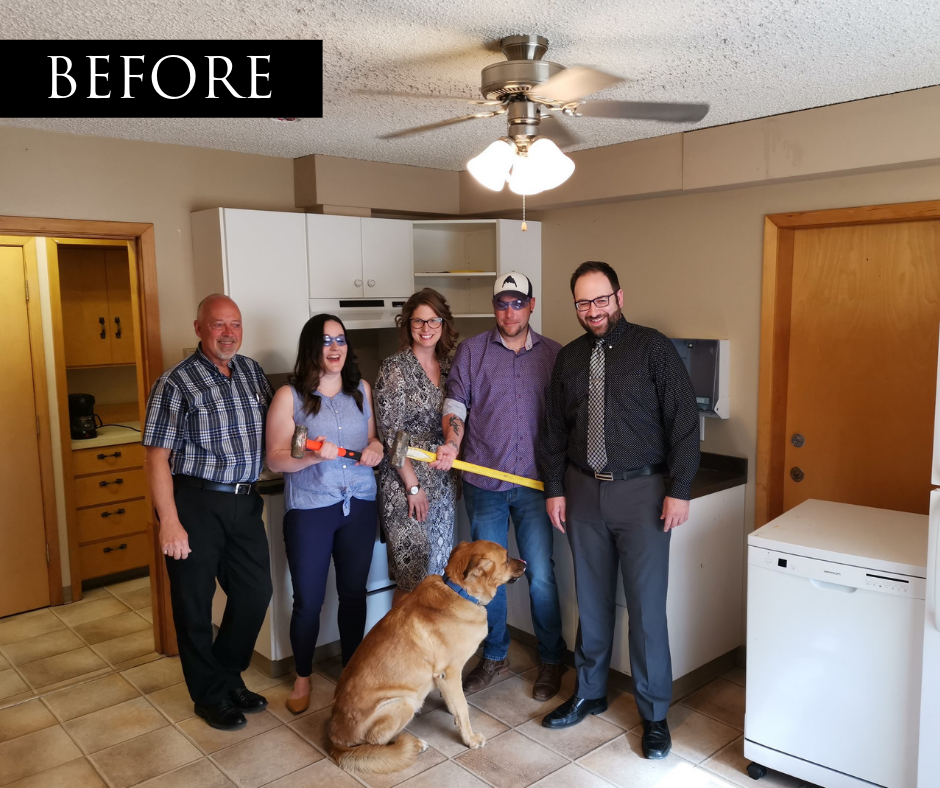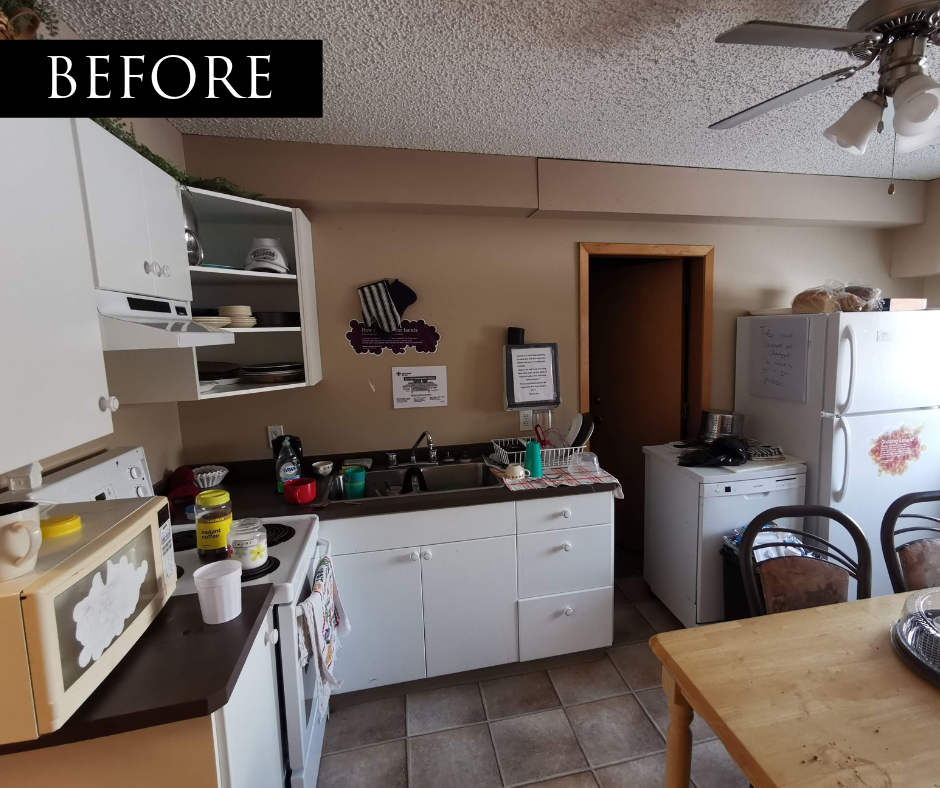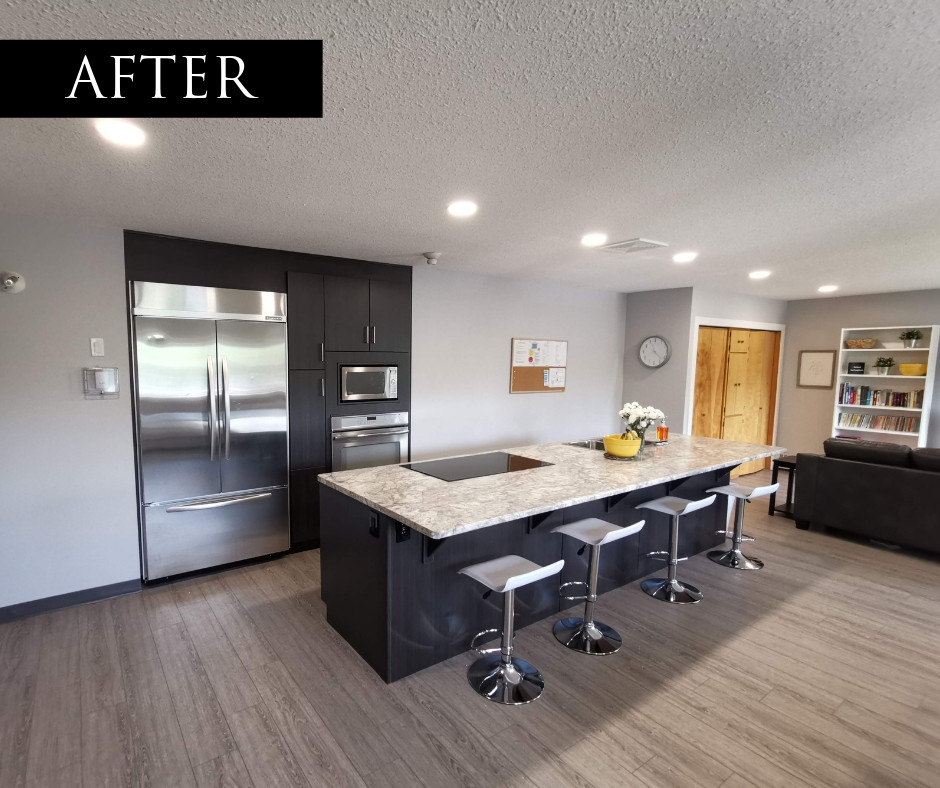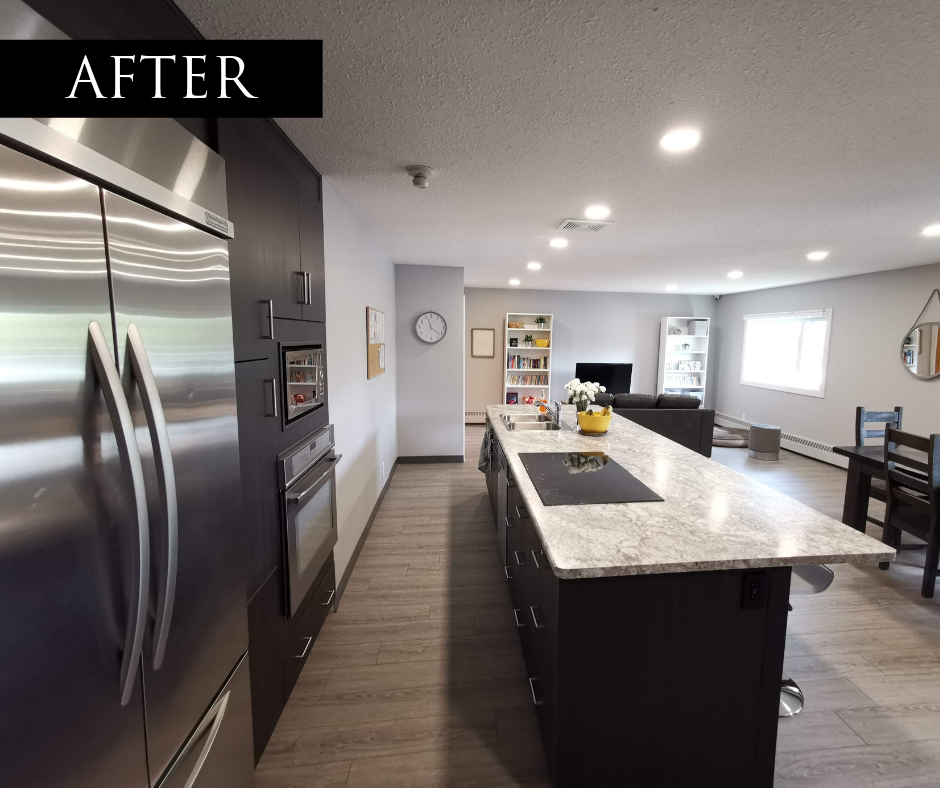 Large kitchen, large dining room table
We kept the kitchen design simple, but efficient. We made the island as large as possible without having a seam in the countertop, which made it hit the twelve-foot mark. A beautiful built-in fridge and oven on the wall side of the kitchen allowed the staff and residents a very efficient workspace that brought everything together.
Having the large island enables the Open Door to have people sit and eat at the island while at the same time having a large dining table gives them even more room. The small kitchen that was there felt really crammed in, but now allows the organization to have far more people in one space where they can prepare food, eat together and really built a strong community with all the people involved.
Bringing everyone together was the goal of the renovation and we were able to achieve that with the changes made.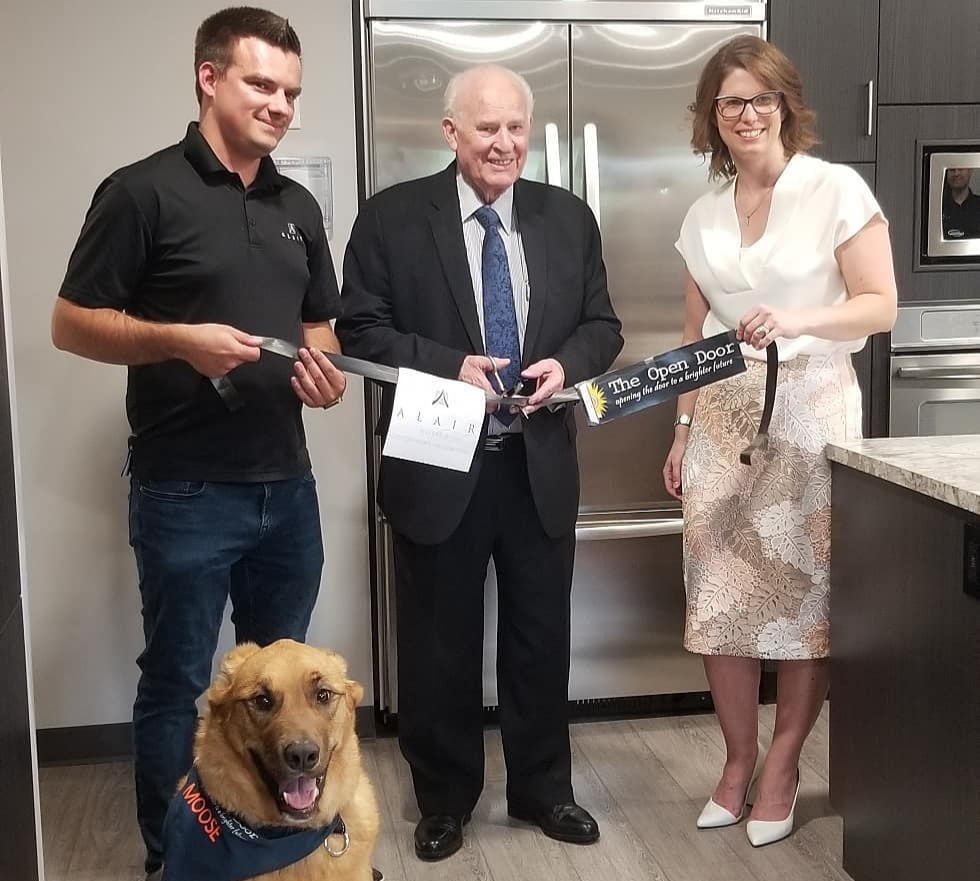 This renovation was made possible thanks to partial grant funding from the Government of Alberta, and support from Alair Homes and our trade and market partners. We thank everyone involved in supporting this great cause that will do great things for our local youth.
The Camrose community is very special and we love being a part of these projects where it really does better the community and the people in it. Can't wait to see what we get to work on next!
Watch the video to learn more about Camrose Open Door and the renovation.
Share: