Home construction is no easy task. Many people must come together and work cohesively for a meaningful construction project. Whether you are breaking ground on your starter home or renovating your Brandon property, you will come in contact with many new faces. It's important to have a clear understanding of who everyone is and the important role they serve in this process.
In this article we will help you to identify 3 major players when it comes to the homebuilding process. These roles are often mistaken for one another and some DIYers are often tempted to take on this role themselves. These are often the first faces you are likely to see, but certainly not the last. With so many experts to turn to and so many roles involved, we'd like to help clear up who you may contact first and what steps you'd next take with them.
Quicklinks
Key Players
Many individuals may be tempted to go straight to an architect or even a designer to help them begin their plans. No doubt, meeting with these individuals to get their expert opinion on your custom home ideas is incredibly helpful. However, before you spend money drawing up specialized designs, I suggest looking at the bigger picture first. Doing this will ensure you're not wasting valuable time or money on plans that will have to be modified later. That's why my team and I like to step in from the very beginning.
General Contractor
To begin, the first person you should consider contacting is a General Contractor. Your GC is more like the overarching entity who will help you in making your dreams of building a reality. This is not a decision that should be hastily made, because your project's budget and timeline are at risk. Your Contractor's primary duty is making sure all work is completed correctly and time. Hiring a reputable contracting firm is essential in making good use of your budget.
Contractors are typically hired after a reviewal of bids. At Alair Homes Brandon, we help ease this process by offering consultations. This is a great opportunity to better understand your needs, commitment-free. We are also able to leverage our national buying power to help in securing the best deals from our local subcontractors. That means as our client, you receive  great deals on premium build materials without overextending your budget. These consultations also help in matching you with a Project Manager.
Project Manager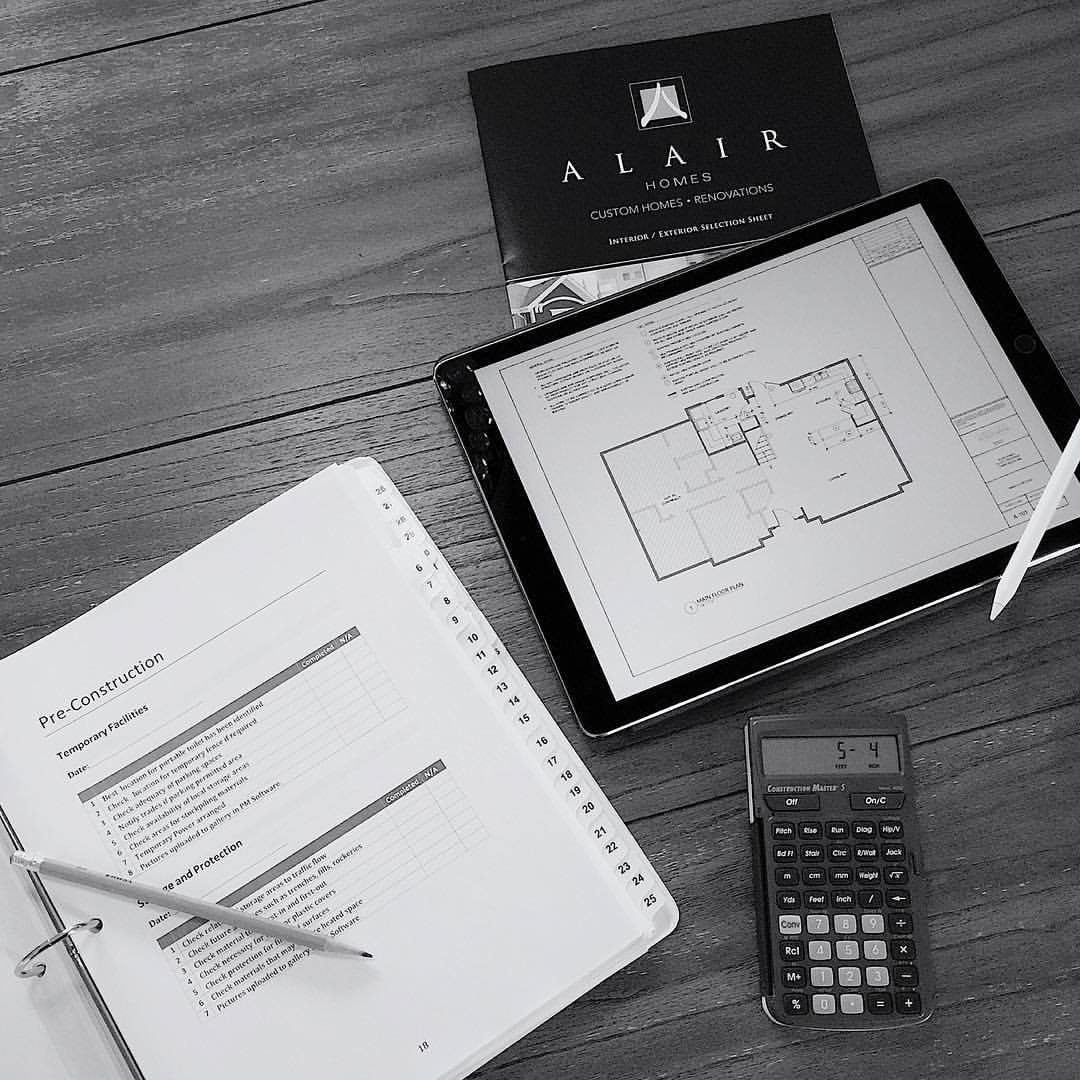 At Alair, every project is assigned a Project Manager to work with you from start to finish. A Project Manager will help you at a more personal level to help assess your wants and needs. The Project Manager acts as a bridge between you, the client, and our local market partners. They will collaborate with you to build a personalized project plan. Your Project Manager is essentially your right hand man in orchestrating a smooth home construction project.
Your Project Manager will also ensure all proper planning and permitting is done prior to breaking ground. With so many building regulations, obtaining the correct licensing and submitting the proper permits is absolutely critical. Any misstep in this process can set you back time and money, so having a professional help guide you is invaluable.
Construction Manager
As the name might suggest, construction managers help with the building and construction site. The Construction Manager is brought on pre-construction to offer expert advice in the building design. They work directly with builders and subcontractors to deliver more astute estimates and time-frames. These individuals are left in charge of managing the actual construction site as well making sure all materials are accounted for and plans are well executed.
Depending on the contracting firm you choose to work with, your Project Manager may take on this role. When I make my rounds to visit job-sites, I often check-in with the construction manager to get any day-to-day job updates I can pass along to the client. At Alair Homes we make weekly reports available through an online portal so you can check into your project at your leisure.

Assembling Your Team of Experts
The best way to make good on such a large investment like home construction is having an experienced professional by your side to offer guidance. With so much planning involved, hiring the right team is critical. Your build team will help supervise the actual construction so you can focus on the details that matter.
Meet with plenty of local builders and collect bids to get a better idea of your options. Every experienced professional should have references and previous examples of their work. You can always ask if they have any current projects you can see as well. Home construction is an intimate business. This is the team that will be helping to construct your personal sanctuary, so take care to do your due diligence in researching.

Communicating With Your Build Team
The first step in a successful build is setting a standard of clear communication between you and your build team.
Communication is key in this relationship so you may grow to truly understand each other. That is why from the moment you've been partnered with a Project Manager, we encourage you to express your honest expectations. By being upfront about all your goals, no matter how insignificant they may seem, we can work to better understand how to provide the most valuable and cost effective solutions. Once plans are finalized and renovation draws near, you will be working closer than ever, so feeling comfortable with your team is vital.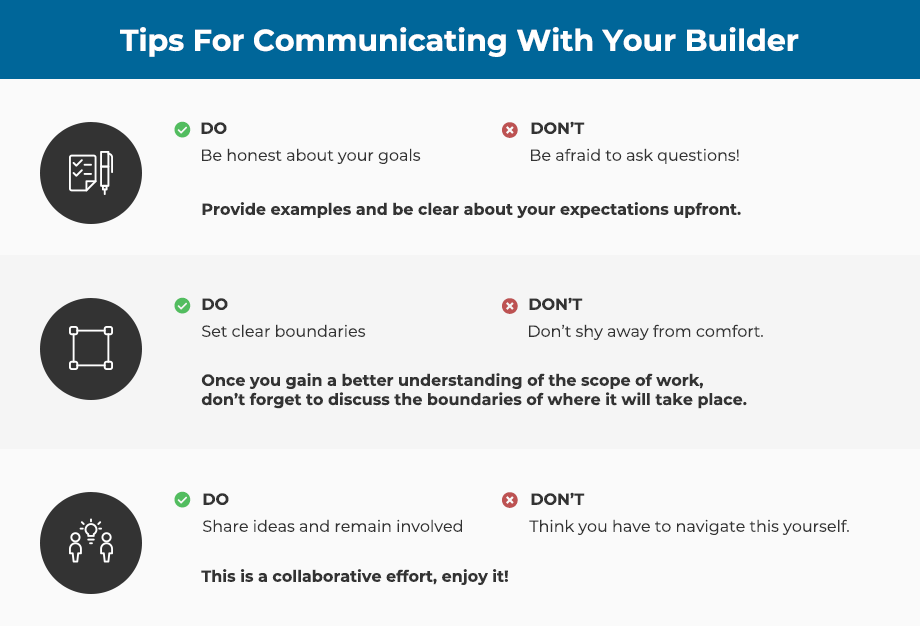 We maintain thorough communication throughout this process to ensure you are kept up to date with everything going on at home. Weekly reports are made available to you, so you know where we are at in the process and how your money is being allocated. We disclose the true cost of all building materials and labor costs, so there's clarity in all communication.
If you'd like to further discuss your home construction goals, give my team a call. Set up a consultation and meet the team for yourself!
Share: