When planning to build a custom home, the process is all too familiar. It is often said: Collect at least 3 bids, compare them, and make a final decision. On paper, this 3-bid process looks quite effective. Not only do you get to compare multiple offers, but you also take advantage of competition, and negotiate a better price.
But the reality is that the 3-bid model is becoming outdated.
Many quotes given by builders are inaccurate, given that it's often calculated before a full inspection and consultation. This is where "hidden costs" creep in during the building process, and homeowners become frustrated. You don't really get to know your builder, and thus you cannot receive a personalized estimate.
Alair Homes works in a different way to satisfy client needs. We take time to understand your preferences to ensure your unique needs are met. We achieve this by replacing the bidding process with a hybrid of Fixed Price and Cost-Plus models.
| | | | |
| --- | --- | --- | --- |
| | FIXED PRICE | COST PLUS | CLIENT CONTROL |
| Ability to make finish product selections. | | | |
| Client keeps 100% ownership of the property throughout the process. | | | |
| Buying power passed directly to the client. | | | |
| Full breakdown of management hours. | | | |
| Clients have complete transparency to the costs, including markup. | | | |
| Ability to change selections and scope during construction with no penalty. | | | |
| The price of the job is known up front, prior to construction commencing. | | | |
| All encompassing service, from lot sourcing and designing to move-in services. | | | |
| Clients have absolute control over their vision for the project from day one. | | | |
Client Control means being able to get all that you want from you home without compromising your budget.
Understanding the 3-bid Strategy
If you're planning to build a custom home, especially on your own lot, you may be looking for a quote on how much the project will cost. There are multiple aspects to consider when seeking a quote- including material costs, labor, transportation, licensing, and much more. Many homeowners tend to clump these expenses together and look for a builder who will offer the most competitive bid for their project. It's often recommended that you should compare at least 3 different quotes before choosing the most competitive one. But the 3-bid strategy results in inaccurate quotes, poor quality work, and other issues associated with chasing the lowest cost option.
Instead, I'd urge you to consider past work experience and references before selecting a builder. Get to know the company you'll be working with for months to come. A trusted builder also offers an estimate as opposed to a bid. An estimate is customized to your specific needs and is prepared accurately in consideration of the nature of your project.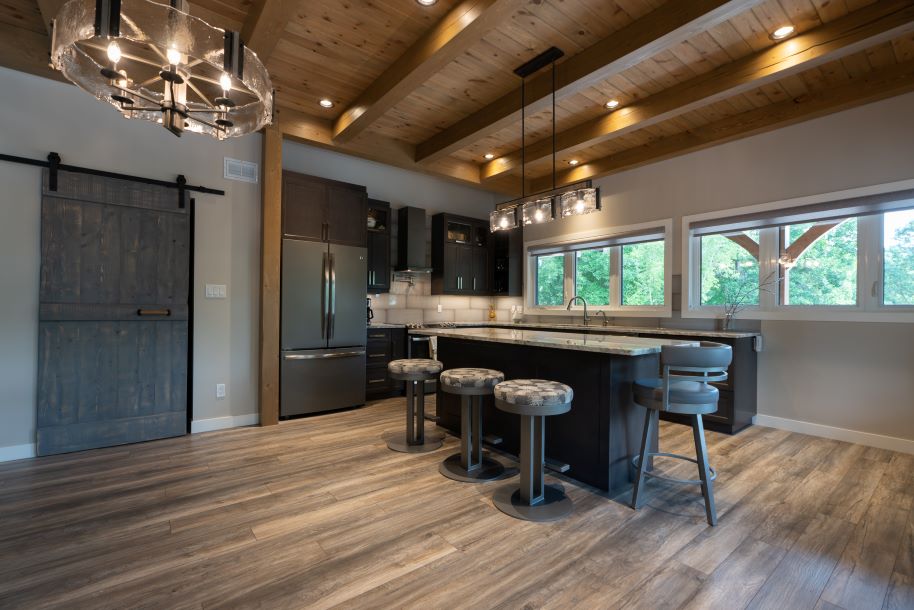 Understanding our Estimate Process
At Alair Homes, each estimate is prepared using Fixed Price and Cost Plus Models. This means that we use a combination of fixed prices (to keep expenses predictable), and cost-dependent pricing (to offer the best value to our customers). Our Cost Plus model is based on the current unit cost of each product plus a markup to cover our expenses and margins.
This transparent and highly responsive pricing model enables you to better plan for project expenses while getting the best value for your money. Custom home building can be a lengthy and expensive process. Rather than pulling your hair out trying to keep track of every little detail, our pricing model is simple to understand and tailored towards your needs. You can also remain up-to-date throughout the process while making any relevant adjustments in real-time.
Why the Client Control Model works
Alair Homes: How To Understand Contractor's Fees from Alair Homes on Vimeo.
Maintain flexibility during the project
Building a home on your own lot is a significant undertaking. A lot will happen along the way, including changes in design preferences and building timelines. Through our innovative pricing model, you can maintain flexibility during the entire project. This means being able to change floor plans, adjust the positioning of your home on the lot, and even change budget limits.
At Alair Homes, we understand things might change along the way, but we work closely with you to ensure that your needs are met. And because we take time to understand you, the layout of your piece of land, and current market trends in home design, we take the preventative measures  to create thoughtful build plans.
We help you remain on budget
As with any other project you may engage in, staying on budget is one of the biggest challenges. When building a custom home from the ground up, last-minute preferences tend to make you go over budget (and could possibly stall the entire project).
Using our hybrid pricing plan, we can help you create and stick to a budget that meets your financial needs. The fixed portion of our estimating model enhances predictability, while our Cost Plus portion is responsive to market trends and demand/supply levels.
A New Strategy
For millions of Canadians, building a home is their single biggest investment. Custom home building is an even more intricate process that requires careful planning. Instead of waiting for 3 random bids to choose from, a wise idea is to keep your investment in the hands of trusted professionals who will get the job done. Considering past projects, experience, and attention to detail is an essential part of this process.
If you're thinking of building a custom home in Brandon, look no further than Alair Homes. Our client-control pricing model is responsive, cost-effective, and convenient for even the most complicated projects. Contact us to begin your custom plans today!