Alair Homes
March 13, 2017
[INFOGRAPHIC] The Smart Home: Trends & Benefits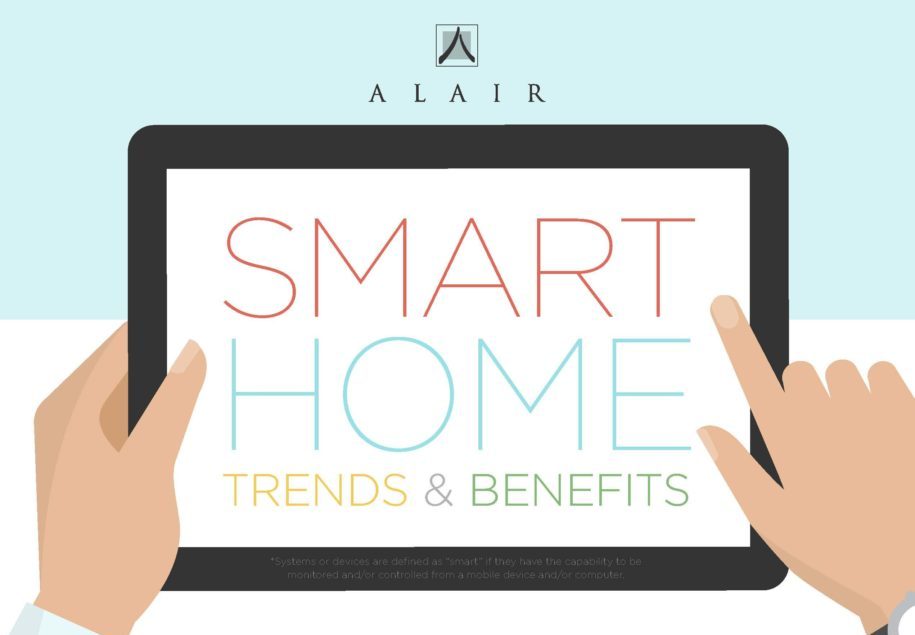 Tags:
The smart home trend is definitely one that is here to stay. This includes any devices or systems throughout the home that can be controlled via a mobile device, allowing users to have access to the system from wherever they are, both in the home and out.
Homeowners across Canada are making the switch and upgrading their homes with smart components, like security systems, lighting, climate control and entertainment. This trend is becoming so popular these days that 45 percent of renovation projects include the addition of at least one smart upgrade.
Security systems are the most popular smart upgrade, making up 36 percent of the current smart home upgrade market. Homeowners love the ability to monitor the system while they are away from home so that they can ensure that their family is as safe as possible. They also love the instant alerts to fires or gas leaks while they are out, enabling them to alert the proper authorities as quickly as possible.
Entertainment systems are the second most popular upgrade, at 26 percent of the market. With smart entertainment, viewers can watch their favourite programs and movies in any room that is connected, even picking up from where they left off in a different room.
Climate control and lighting systems make up the rest of the smart upgrade market, at 20 and 18 percent, respectively. These types of upgrades are most commonly chosen for their ability to provide additional comfort for family members while in the home. Homeowners also love that these systems allow them to save on energy costs when they are out of the home, turning systems off when they are not needed.
Across the board, consumers are much happier with the results gained from their smart upgrades than are those who chose non-smart options. This is a trend that is likely to continue into the foreseeable future.
[Infographic]

Did you like this infographic? Share it on your site: