Choosing a contractor is ultimately one of, if not THE, most important decision you will make when you decide to build your custom home or move forward on a substantial renovation to your home.
We have a few important principles and values that are really important to us at Alair Homes. We have honed them and customized them by speaking with and understanding our clients needs and through out many years of being in the industry.
We hope that our values and principles resonate with you and convey our utmost dedication and commitment to you, and your home.
Transparency
There's nothing to hide when you work with Alair. Every dollar spent, every quote received, and every single line item is included in detailed budgets that are updated weekly and sometimes even daily – complete transparency.
At Alair, you will know every detailed cost, have the freedom to choose all selections and decide on who will carry out every function of your project before it ever starts. Certainty is the foundation of Alair's Client Control (an online project management platform that all clients have access too) and is the reason why thousands of clients have become fans and overwhelmingly recommend Alair to their friends and family.
Partnership
This is your home and your vision, and that's really important. We want to bring your vision to life, but of course, we want you to be partners with us throughout this journey. You will get to choose from different contractors and quotes to customize your dream team of tradesmen. We welcome working with skilled architects and creative designers. So, if you have someone in mind, or are already speaking with someone, we look forward to meeting them. We are team players and skilled project managers, excellent at leading, coordinating and advocating for you during your entire project – from beginning to end.
Cost Control
Alair is the only contractor in the world that performs every project exclusively with Client Control. Our highly-trained and certified project managers empower you with authority over your project from start to finish. As an Alair client you have 24/7 visibility to your project's progress and updates while maintaining authorization rights to approve every cost and milestone. No decision or price is approved without your authorization; you will have complete peace of mind knowing exactly where your project's budget is and where it will be upon completion.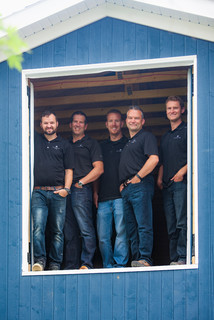 Credibility
Alair is proud to be the most trusted construction management partner of leading architects, designers, trade experts and many other award-winning industry professionals. As an Alair client, you enjoy the benefits of unmatched expertise and unparalleled commitment to integrity, transparency and value.
We would love to hear from you and answer any further questions you may have about building a custom home or about Alair Homes. We offer a complimentary consultation that is a great first step in any project. Please contact us at 416. 526.7710 or by email at [email protected] to set up a time that works for you.