Whether it's a movie night with several friends, big birthday shindig, or a casual weekend barbecue- be prepared for any event by building with entertainment in mind. Your custom built home revolves around creating a space that's chic, practical and comfortable.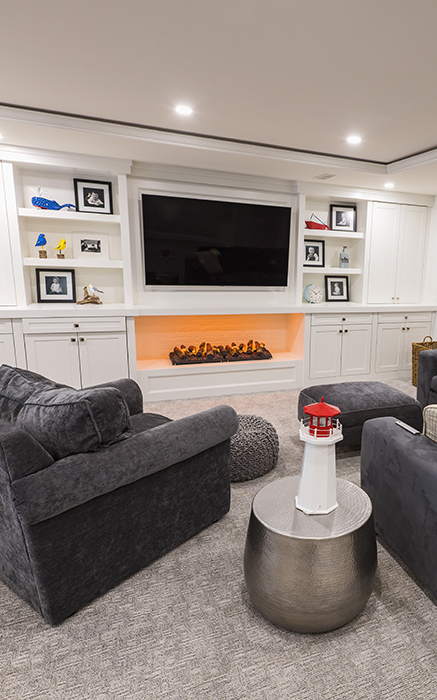 Alair Homes understands the importance of this dynamic as it relates to home building. We've compiled the following design checklist to help you create the ideal entertainment space in your custom built home in Aurora. Creating a home built to entertain ensures you will have plenty to enjoy year-round.
Connect with the Environment
Nothing beats throwing the doors wide open on a bright sunny day, and extending a bash outside. To open up your entertainment area, you can never go wrong with bi-folding doors, stacker doors, or the ever-popular sliding doors. With a server window, passing food and drinks from the kitchen to your outdoor space becomes simple, not to mention that cleaning up becomes a breeze.
Keep in mind that the ability to merge your outdoor and indoor space offers the advantage of catering for bigger groups, thanks to the increased party space. What is more, an indoor/outdoor merge adds a tad more of resort style ambiance to your gatherings.
Open Plan
Truth be told, open plan living spaces and kitchens offer a perfect setting for daily living. Such a space also creates an ideal, spacious place whenever family and friends pay a visit. Chatting, cooking and eating can happen simultaneously in the same space thanks to the advent of the open design. This means that everyone can be part of the action, including the family chef.
Larder-style pantries or sculleries play a major role in terms of keeping the food prep and mess out of sight, while an island bench comes in handy as an exemplary focal point. Defining a big open plan space is always a great idea as it helps treat each area as an individual entity. Varying ceiling heights, rugs, and furniture can help you define individual spaces used for food preparation, games, conversation and dining. Clutter should be kept at bay to ensure that each individual space is inviting and open. Open-plan designs make small living spaces look bigger, complete with abundant natural light, and great airflow.
Balance Separation and Integration
Most homeowners prefer separating the adults from the kids when entertaining. It would be prudent to figure out how to divide the area without anywhere seeming somewhat closed off. The same goes for containing cooking smells, noise as well as cooling and heating. In the event that you wouldn't want to take center stage during meal preparation, it's essential to think about creating some kitchen privacy without feeling left out.
Push the Boundaries
An illusion of space is a sure fire way to impress everyone on your guest list. Even if you use open bookcases, room dividers, and similar features, everyone will be able to visually extend their eyes should you keep your spaces connected. There should be sufficient space for people to mingle without compromising on keeping the different areas cozy, practical, and open. Whether you invite three guests or thirty, pushing the boundaries will guarantee you all enjoy the time you spend together.
Versatility is Key
With an adaptable entertaining and living space, hosting get-togethers and soirees becomes an easy task. Consider open spaces that merge both in and outdoors. A flexible layout is all you need to successfully host a large event complete with buffet, dance space, and bar as well as a sit-down dinner with dear ones.
What next?
Owning a custom built home is a rewarding experience. Even so, the thought of hosting guests can be a dicey affair. No need to fret though as the above discussed will help you create a custom space perfect for entertaining.